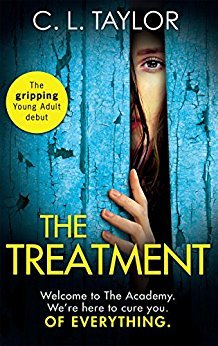 THE TREATMENT by C. L. Taylor
Published: October 19th 2017 (HQ Young Adult)
Format: Kindle e-book
Pages: 384
"You have to help me. We're not being reformed. We're being brainwashed."
All sixteen year old Drew Finch wants is to be left alone. She's not interested in spending time with her mum and stepdad and when her disruptive fifteen year old brother Mason is expelled from school for the third time and sent to a residential reform academy she's almost relieved.
Everything changes when she's followed home from school by the mysterious Dr Cobey, who claims to have a message from Mason. There is something sinister about the 'treatment' he is undergoing. The school is changing people.
Determined to help her brother, Drew must infiltrate the Academy and unearth its deepest, darkest secrets.
Before it's too late.
I'll start off by saying that I didn't dislike this book. I finished it within a few hours, so it definitely wasn't a struggle to get through. But I generally look for more in a book than not having to struggle to finish it.
Everything in The Treatment seemed rushed and not thought through. The author mentions in the acknowledgments that they wrote two books within a year. It's noticeable. The Treatment reads like a first draft – a general outline of a book that had the potential to be something more.
I didn't particularly care for the characters because there was simply no time to connect with them. They were generic and boring. The events in the story are very rushed and random characters just keep popping up out of nowhere. Half the time I was wondering if I had somehow skipped a few pages.
In all honesty, The Treatment felt a bit like a parody of young adult novels. I just couldn't take it seriously. At some point there's even a character rolling around laughing with their knees pulled to their chest – who has ever seen anyone do that? The main character, our protagonist Drew Finch, somehow managed to fool the experts simply by reading a few books on a topic, and everything always worked out exactly when they needed it. That being said, the problem that the entire plot is based around could have been easily avoided if the main character had stopped to think for a few seconds, yet somehow the book paints her as a 'courageous hero' instead of the idiot that she is.
I found this book entertaining, but more in an amusing, laughable way than a high-quality page turner. But please, read this book and see for yourself – you might like it a lot more than I did!