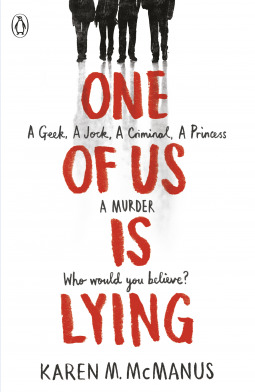 Yale hopeful Bronwyn has never publicly broken a rule.
Sports star Cooper only knows what he's doing in the baseball diamond.
Bad boy Nate is one misstep away from a life of crime.
Prom queen Addy is holding together the cracks in her perfect life.
And outsider Simon, creator of the notorious gossip app at Bayview High, won't ever talk about any of them again.
He dies 24 hours before he could post their deepest secrets online. Investigators conclude it's no accident. All of them are suspects.
Everyone has secrets, right?
What really matters is how far you'll go to protect them. 
PLOT


WRITING

CHARACTERS


OVERALL

This The Breakfast Club inspired novel had everything I was looking for in a young adult crime novel and more. I went into this book knowing nothing about it, and flew through it. When I read in the acknowledgments that this is McManus' debut young adult novel, I couldn't believe it. One Of Us Is Lying is without a doubt one of the best books I have read in this genre.
The writing is flawless. This book reads so smoothly, it's almost impossible to put down, as much of a cliche that is. The characters on the other hand, are the opposite of flawless. There's the jock, the princess, the criminal and the brain. However, there is a lot more to each of them than just that stereotype. There is so much depth to these characters, you fall in love with each and every one from the start.
McManus' writing style fitted the story perfectly, somehow capturing each character's individualism. It's not always easy to successfully tell a story from four different perspectives without it becoming confusing and unreadable (Game of Thrones, anyone?), but McManus pulled it off.
I have given only four stars for plot, because even though the premise is original, I could see the ending coming a mile away. I was slightly disappointed that the hunch I had from the very beginning turned out to be correct.
But overall, I was surprised by how much I enjoyed this book, especially considering it's a debut novel.