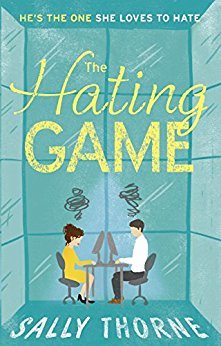 THE HATING GAME by Sally Thorne
Published: August 9th, 2016 – Piatkus
Format: Kindle e-book
Pages: 384
NEMESIS (n) 
1) An opponent or rival whom a person cannot best or overcome
2) A person's undoing
3) Joshua Templeman

Lucy Hutton has always been certain that the nice girl can get the corner office. She prides herself on being loved by everyone at work – except for imposing, impeccably attired Joshua Templeman.
Trapped in a shared office, they've become entrenched in an addictive game of one-upmanship. There's the Staring Game, The Mirror Game, The HR Game. Lucy can't let Joshua beat her at anything – especially when a huge promotion is on offer.
If Lucy wins, she'll be Joshua's boss. If she loses, she'll resign. So why is she questioning herself? Maybe she doesn't hate him. And just maybe, he doesn't hate her either. Or is this just another game . . . ?
Plot


Writing


Characters


Overall

If there was a Grammy for debut novels (and there should be), Sally Thorne takes it home with no competition. The Hating Game had me howling with laughter from the first page to the last. It's that good.
"I want to know what's going on in your brain. I want to juice your head like a lemon."
The Hating Game is told from the perspective of Lucy Hutton, who hates Joshua Templeman. And Joshua Templeman hates Lucy Hutton. Unfortunately for them, they have to work closely together every day. Lucy Hutton is absolutely hilarious. I want to be her best friend. No, I want to be Lucy Hutton. I have never related to a character so much in my life. She is clumsy, funny, sweet and sexy. And she's got balls.
While Joshua wasn't my favourite antagonist, he was still a very interesting and enjoyable character. The side characters were only ever that, side characters. They weren't explored much further, and I wish we had gotten to know a little bit about them too.
"I type my password: IHATEJOSHUA4EV@. My previous passwords have all been variations on how much I hate Joshua. For Ever. His password is almost certainly IHateLucinda4Eva." 
I thought that the ending fell a tiny bit flat, and I wish it had ended differently, but that is just a tiny detail, and my own personal opinion. I loved reading about the antics of a Publishing House, as that is exactly where I would rather be working.  Lucy Hutton really does have it all.
Sally Thorne's writing is impeccable. The characters came to life beautifully, and the writing really sucked you into the story. The humour and witty banter between Lucy and Joshua was written so well, as well as the sexual tension between the two, which you could cut with a knife. This book will blow any romcom out of the water.
"I always thought you'd live underground somewhere, near the earth's core."