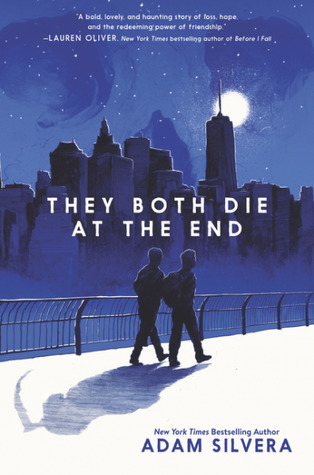 They Both Die At The End by Adam Silvera
Published: September 5th 2017 – HarperTeen
Format: Audiobook
Length: 8 hours, 30 minutes
New York Times bestselling author Adam Silvera reminds us that there's no life without death and no love without loss in this devastating yet uplifting story about two people whose lives change over the course of one unforgettable day.
On September 5, a little after midnight, Death-Cast calls Mateo Torrez and Rufus Emeterio to give them some bad news: They're going to die today. Mateo and Rufus are total strangers, but, for different reasons, they're both looking to make a new friend on their End Day. The good news: There's an app for that.
In the tradition of Before I Fall and If I Stay, They Both Die at the End is a tour de force from acclaimed author Adam Silvera, whose debut, More Happy Than Not, the New York Times called "profound."
If you're in the mood to ride the emotional rollercoaster of a lifetime, pick up this book. Or listen to it, like I did! They Both Die At The End by Adam Silvera is one of those books that makes you stare at the wall in awe once you finish it. The kind that makes you rethink your life and reminds you that life is short, and you should go out and live it.
"No matter how we choose to live, we both die at the end." 
Mateo and Rufus are the two most loveable characters I have come across in a book (or at least up there!) The narrators deserve a lot of praise for how they made these characters come to life. Also – bisexual representation! Yes! It wasn't only included, it was done so well, so organically, I have so much respect for Adam Silvera.
Silvera doesn't only make you love the main characters, Mateo and Rufus, he also makes you care about all the side characters in the story. Even though they only have short cameo's, you're rooting for all of them the whole way through. I wasn't a big fan of the narrator for the side characters, but that is just a minor issue.
The story is beautiful. Adam Silvera's writing style is beautiful and compelling. The teenagers spoke like teenagers and acted like teenagers, not forced but believable and natural.
Although this book tells the story of two boys on their End Day, it's not all dark and gloomy. The dark humour was a much needed addition to the story, and almost makes you forget about the awful fate of the two boys. That's why the inevitable ending crushes you twice as hard.
With this book, Silvera has made his way on to my auto-buy list, and I look forward to reading anything and everything else he comes up with.
"Maybe it's better to have gotten it right and been happy for one day instead of living a lifetime of wrongs."