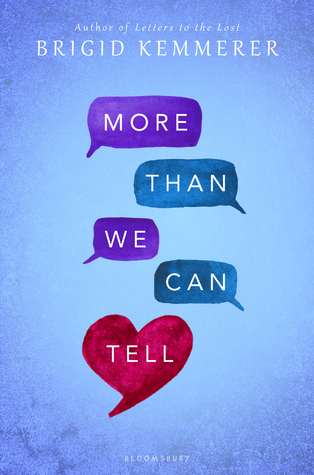 More Than We Can Tell by Brigid Kemmerer
Published: March 6th 2018 – Bloomsbury Children's
Format: Kindle e-book
Pages: 416
Rev Fletcher is battling the demons of his past. But with loving adoptive parents by his side, he's managed to keep them at bay…until he gets a letter from his abusive father and the trauma of his childhood comes hurtling back.
Emma Blue spends her time perfecting the computer game she built from scratch, rather than facing her parents' crumbling marriage. She can solve any problem with the right code, but when an online troll's harassment escalates, she's truly afraid.
When Rev and Emma meet, they both long to lift the burden of their secrets and bond instantly over their shared turmoil. But when their situations turn dangerous, their trust in each other will be tested in ways they never expected. This must-read story will once again have readers falling for Brigid Kemmerer's emotional storytelling.
I received an ARC from NetGalley in exchange for an honest review.
"We all push sometimes, just to make sure someone is on the other side, pushing back." 
More Than We Can Tell is set in the same universe as Kemmerer's previous book, Letters to the Lost, but is a standalone title. I have not read Letters to the Lost, and I didn't need to do understand the story.
I gave this book three stars, because Kemmerer's writing is very easy to read, and draws you into the story. And, uh, that's it.
More Than We Can Tell is the story of one of the most entitled, whiny, mopey characters in young adult fiction. Emma Blue is so unbearably annoying, it made reading from her perspective almost painful. She is rude, selfish and condescending, but believes the whole world is out to get her, and somehow thinks she deserves more than she's getting. A wonderful best friend, parents who love her, a bright future ahead of her. Poor girl. If she had maybe one redeemable quality, I would care about her problems. But she didn't.
Thankfully the story wasn't just told from the perspective of Emma Blue. There's also Rev Fletcher. In Emma's defence, Rev wasn't much more likeable. But he at least seemed to have a valid reason for his awful behaviour. Rev had a lot more depth to him than Emma did. It's almost like Kemmerer wanted to write this character's backstory so desperately and didn't care enough about the rest to put any effort into it.
The story itself was fine. Nothing extraordinary, but fine. Some elements were a little bit too farfetched for me to be able to take it seriously. (A seventeen-year-old designed her own MORPG game all by herself over the span of a few months? Please.) The ending was rushed and unconvincing.
The only two characters I did like were Declan and Juliet, who apparently are the main characters from the first book. Because of that, I may pick up Letters to the Lost at some point, but right now there is nothing compelling me to read anything else by Kemmerer.