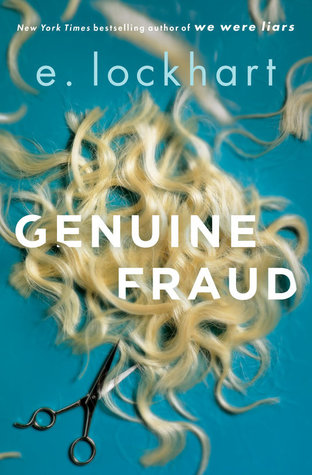 Genuine Fraud by E. Lockhart
Published: September 5th 2017 by Delacorte Press
Format: Hardcover
Pages: 264
From the author of the unforgettable New York Times bestseller We Were Liars comes a masterful new psychological suspense novel–the story of a young woman whose diabolical smarts are her ticket into a charmed life. But how many times can someone reinvent themselves? You be the judge.
Imogen is a runaway heiress, an orphan, a cook, and a cheat.
Jule is a fighter, a social chameleon, and an athlete.
An intense friendship. A disappearance. A murder, or maybe two.
A bad romance, or maybe three.
Blunt objects, disguises, blood, and chocolate. The American dream, superheroes, spies, and villains.
A girl who refuses to give people what they want from her.
A girl who refuses to be the person she once was.
If you were around when E. Lockhart's We Were Liars was first published, you'll remember the controversy around the book. You either loved it or hated it – there was no in-between. I had always been firmly lodged in the 'loved it' camp. I can't get enough of Lockhart's writing. And how long I had to wait for her next book! But wow, was it worth the wait. Genuine Fraud blows We Were Liars out of the water.
"The important thing is this: to be able at any moment to sacrifice what we are for what we could become." 
The story is told in reverse, opening at chapter 18, counting down to 1, and eventually ending with the final, concluding chapter. Lockhart's writing is enticing and captivating as ever. The completely made up word 'unputdownable' has never been more applicable. I just wanted more, more, more. I needed to know what was happening, who this girl was, how they got there.
Our morally black main character, Jule West Williams, is an unreliable narrator if there ever was one. Every page, every sentence leaves you doubting, speculating, trying to figure out what's real and what's not.
"If only she could go back in time, Jule felt, she would be a better person. Or a different person. She would be more herself. Or maybe less herself." 
None of the characters in the book are particularly likeable, which makes the story that much more interesting. You don't know who the bad guy but you can't stop reading until you find out.
The only reason I had to knock this down to 4 stars instead of 5 is because the ending fell a bit flat. I know, the book starts at the end, so you already know the ending more or less. But I was still hoping for something more.
If you're a fan of suspenseful YA, with unreliable narrators and spoiled rich kids, this is the book for you.