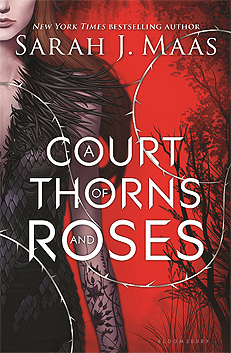 A Court of Thorns and Roses by Sarah J. Maas
Published: May 5th 2015 by Bloomsbury USA Children
Format: Hardcover
Pages: 416
Feyre's survival rests upon her ability to hunt and kill – the forest where she lives is a cold, bleak place in the long winter months. So when she spots a deer in the forest being pursued by a wolf, she cannot resist fighting it for the flesh. But to do so, she must kill the predator and killing something so precious comes at a price …
Dragged to a magical kingdom for the murder of a faerie, Feyre discovers that her captor, his face obscured by a jewelled mask, is hiding far more than his piercing green eyes would suggest. Feyre's presence at the court is closely guarded, and as she begins to learn why, her feelings for him turn from hostility to passion and the faerie lands become an even more dangerous place. Feyre must fight to break an ancient curse, or she will lose him forever.
"Pity those who don't feel anything at all." 
Sarah J. Maas is the undisputed Queen of YA Fantasy. Her superior writing skills are evident from the first page of any book you pick up. And ACOTAR was no different. Maas writes with such attention to detail that you get immediately sucked into the story, into the surroundings of the characters. You see what they see, experience what they experience.
The world building in ACOTAR is phenomenal. ACOTAR is a retelling of Beauty and the Beast, but with Faeries, and much, much darker. To be completely honest, the link with Beauty and the Beast wasn't always very evident, but the basis was there.
"I was as unburdened as a piece of dandelion fluff, and he was the wind that stirred me about the world." 
The characters are thoroughly interesting, each with their own motives and backstory. Feyre is a badass heroine, tough but caring. And she doesn't take any shit from anyone, including the main male character, Tamlin. Unfortunately, I found that Tamlin was the least fleshed out character in the book, and therefore I didn't grow to like him particularly. Lucien, on the other hand, I hope we get to see a lot more of. Lucien is funny and brave, honest, proud, genuine. Yeah, I'm pretty much rooting for him all the way.
Rhysand – one of the main antagonists – does a damn good job at making me despise him. However, the upcoming redemption arc is obvious. I don't see me liking his character unless he does a complete one-eighty in the next book, which I don't see happening.
The story is fast-paces and filled to the brim with gripping suspense. I couldn't think about anything else while I was reading ACOTAR. I just had to finish it, had to find out what happened to Feyre and the rest. Plus, this book is so full of incredible one-liners that I'm sure will show up in many people's 'favourite quotes' lists (including mine).
"We need hope, or else we cannot endure." 
I absolutely loved that this book is leaning more towards New Adult than Young Adult, which almost never happens. That fact alone really sets it apart from other books in its genre, and will appeal to a much wider audience.
In short, ACOTAR was expectedly magnificent, and I can't wait to start on the next book in the series.