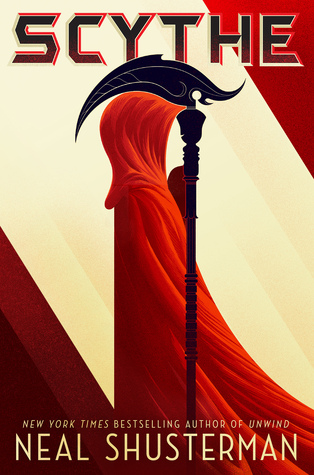 SCYTHE (Arc of a Scythe #1) by Neal Shusterman
Published: November 22nd 2016 by Simon Schuster Books for Young Readers
Format: Paperback
Pages: 435
A world with no hunger, no disease, no war, no misery: humanity has conquered all those things, and has even conquered death. Now Scythes are the only ones who can end life—and they are commanded to do so, in order to keep the size of the population under control.
Citra and Rowan are chosen to apprentice to a scythe—a role that neither wants. These teens must master the "art" of taking life, knowing that the consequence of failure could mean losing their own.
Scythe is the first novel of a thrilling new series by National Book Award–winning author Neal Shusterman in which Citra and Rowan learn that a perfect world comes only with a heavy price.
Unputdownable – adjective, informal
1. (especially of a book or periodical) so interesting or suspenseful as to compel reading.
Originally published in 2016, Scythe is not a new release. With the sequel, Thunderhead, now out, I thought I'd give it a go. And I can't fathom why I had never heard of this series before now.
"Mortals fantasied that love was eternal and its loss unimaginable. Now we know neither is true. Love remained mortal, while we became eternal." 
Scythe is a brilliantly written young adult science-fiction novel set on Earth several hundreds of years from now. Humanity has finally conquered death. If you die accidentally, your body is brought to the nearest revival center by ambudrones, where you sleep for several days before you're good as new. Old age is a thing of the past. You can now 'turn the corner' and reset back to age twenty-one.
But of course, people still need to die to avoid overpopulation. Scythes are above the law, and make irrevocable decisions and on who gets to live, and who dies for good.
The world-building is impeccable. I became so fascinated by the world created I started asking myself (and random people in my vicinity) if trying to eradicate disease and conquer death was really the way to go for humanity. (Spoiler alert – still a big fan of fighting disease!)
"Guilt is the idiot cousin of remorse,"
The story had me on the edge of my seat at all times, I simply could not put it down. Citra and Rowan are remarkable but very different characters, and reading from both their perspectives definitely gave the story the boost it needed. Seeing the characters learn and grow was the best part of the story. Citra and Rowen both went through some serious character development, each in completely different ways.
The only thing I did not like about the story was the seemingly random romance. I felt like there was no chemistry between the characters at all. I didn't understand why Citra and Rowan were so loyal to each other, because they didn't seem like more than just good friends. This made the ending a bit of a letdown.
"Well, she could learn self control tomorrow. Today she wanted pizza."
Despite this, I have got high hopes for Thunderhead and I can't wait to get my hands on it. Now I have to make the decision to wait for the paperback version to come, risk having mismatches series, or buy another copy of Scythe in hardback. We all know which one will win.