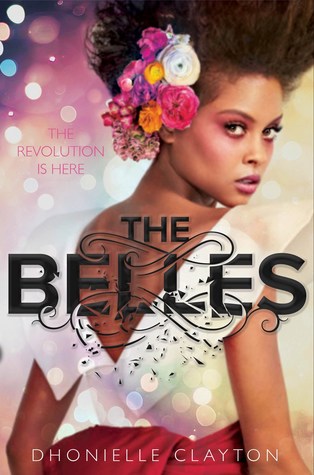 THE BELLES by Dhonielle Clayton
Published: February 6, 2018 by Disney-Hyperion
Format: Paperback
Pages: 434
I am a Belle. I control Beauty. 
In the opulent world of Orléans, the people are born grey and damned, and only a Belle's powers can make them beautiful.
Camellia Beauregard wants to be the favourite Belle – the one chosen by the queen to tend to the royal family.
But once Camellia and her Belle sisters arrive at court, it becomes clear that being the favourite is not everything she always dreamed it would be. Behind the gilded palace walls live dark secrets, and Camellia soon learns that her powers may be far greater – and far darker – than she ever imagined.
When the queen asks Camellia to break the rules she lives by to save the ailing princess, she faces an impossible decision: protect herself and the way of the Belles, or risk her own life, and change the world forever.
I have nothing negative to say about The Belles. Nothing. Maybe if I nitpicked I could find something to complain about. I couldn't stop thinking about this book, for all the right reasons. I couldn't wait to get home every day to get back to reading, something that hasn't happened to me in a very long time. I was reading this book every chance that I got. 5 minutes between meetings? Check. Waiting for the light to change so I could cross the road? Check.
I adore the world Clayton created. A world full of grey where only a few people are born in colour. So simple but so brilliant. And the main character, Camellia Beauregard – I have a major crush on her. What a sweet, lovable character.
The villain, Sophia, was an absolutely detestable character. I thought Clayton would play it safe, but she really went all out, creating a character that I despised so much I could barely continue reading at some points. I had to close the book to control my anger several times. The Umbridge of the Belles world.
The story does, perhaps, move a little bit slowly for some readers, but I loved the slow pace because it allowed for more description of the day-to-day life of the Belles.
Absolutely incredible book – loved everything about it. Cannot believe how long I'll have to wait for the next book.
"Be the best without trying to be better than the others."