The lovely Andrea from Andrea's Nirvana tagged me in this book tag. Thank you so much for tagging me! This post is all about fictional couples that I don't like. In other words, NOTPs!
Since I'm going to be mentioning canon couples from books/series that I've read, be aware of spoilers!
This tag was created by Kate at Melting Pots and Other Calamities, and here are the rules:
Pingback to Kate
You can choose ten romance fails from ANY media you like: books, movies, anime, manga, T.V shows, or Webtoons. You can even mix them up if you want.
You can choose funny fails or serious ones; for the serious ones, phrase it humorously. Remember, this is a fun tag! It's not meant to be serious.
Mention who's who in the fails. (I.E, who fails and who is the recipient of the failure). If there isn't  recipient, per se, just state the couple (or non-couple).
Optional: Rank the failures from least extreme to most extreme.
5 failures at LEAST.
Tag as many people as you want, but at least one person.
Here we go!
1. Katniss and Peeta, The Hunger Games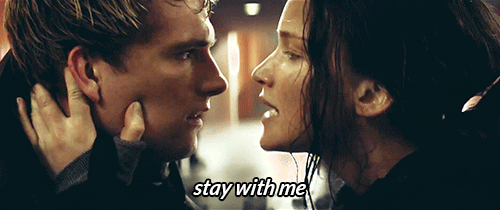 I don't like Peeta! I'm sorry, I just really don't like his character. Maybe it was the way he was portrayed in the movies, even though I did read the books, I don't know. I don't think Gale was a better fit for Katniss, but I didn't like her relationship with Peeta either. Maybe she should have ended up alone.
2. Feyre and Tamlin, A Court of Thorns and Roses
I haven't finished reading the third installment in the series, A Court of Wings and Ruin, yet, but boy do I not like Tamlin. He started off fine as a character, but it seems like Sarah J. Maas changed her mind about him halfway through the series and made him the least likeable character in any of her novels to date.
Just a big, huge no on this one.
3. Feyre and Rhysand, A Court of Thorns and Roses
There, I said it. I don't like Feyre with Rhysand either. Maybe the third book will change my mind but right now, I don't like his character and don't agree with the pairing. I don't think Rhysand deserves to end up with Feyre.
I have a feeling this is going to be a post full of unpopular opinions.
4. Citra and Rowan, Scythe
It's not so much that I don't like Citra and Rowan together, it's mostly that I just don't get it. There was absolutely zero chemistry between these two characters and the romance was forced for the sake of having a romance. I hope Thunderhead changes my mind, but I wish Shusterman had just forsaken the romance all together.
5. Rev and Emma, More Than We Can Tell
I just didn't get these two characters together. It's not just that Emma was unbearably annoying- Scratch that, it IS because Emma was unbearably annoying.
6. Warner and Juliette, Shatter Me
What is it with YA books magically forgiving every shitty thing a character does when said character is an attractive male? You can be the most despicable, evil person on the face of the earth – as long as you have abs and a chiseled face, you get a redemption arc and get the girl. Ugh.
I haven't read Restore Me yet, so no spoilers!
What are your NOTPs?
Do you agree or absolutely disagree with any of mine? Change my view!
If you want to do this tag, please go ahead!
I tag: