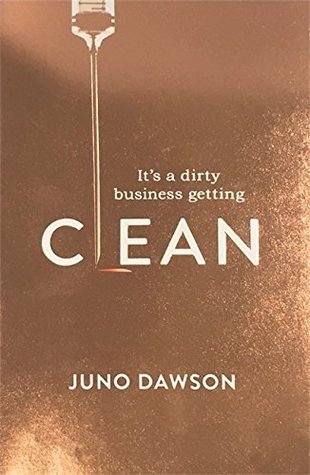 CLEAN by Juno Dawson
Published: April 5th 2018 by Quercus Children's Books
Format: Paperback
Pages: 399
I can feel it swimming through my veins like glitter … it's liquid gold.
When socialite Lexi Volkov almost overdoses, she thinks she's hit rock bottom.
She's wrong. Rock bottom is when she's forced into an exclusive rehab facility.
From there, the only way is up for Lexi and her fellow inmates, including the mysterious Brady.
As she faces her demons, Lexi realises love is the most powerful drug of all …
It's a dirty business getting clean …
If I did half stars, I would give this book 4.5 stars, but since I don't, I'm rounding up. Don't get me wrong, I absolutely devoured this book. There is something about addiction books that really seem to resonate with me (Crank by Ellen Hopkins, anyone?). I've never really had an addiction – I don't even smoke – but somehow I still feel like I can really relate.
Lexi Volkov is everything that I'm not: rich, riveting and reckless. Her parents are around, but not really, so she is left to herself with more money than she knows what to do with. Her hobbies include partying and shopping and, uh, that's it. I know what you're thinking, she doesn't sound like a very relatable character. But then she hits rock bottom, and we see the real Lexi: a scared, lonely seventeen-year-old.
Juno Dawson's writing is incredibly compelling. Every chapter in this book is 2 to 5 pages long, which means you can never stop reading because you get stuck in an endless loop of 'just one more page' until it's finished and you realise you need more. (Is this what addiction feels like?)
Following Lexi's journey through rehab and life was intense but so satisfying. She's far from perfect, but you can't help root for her every step of the way.
Clean by Juno Dawson was Waterstones Brighton's YA & Teen Book Club's pick for May, and I'm so glad we picked this book because I could not get enough.