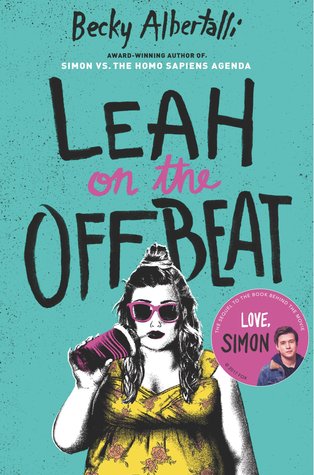 LEAH ON THE OFFBEAT by Becky Albertalli
Published: April 24, 2018 by HarperCollins
Format: Kindle e-book
Pages: 368
In this sequel to the acclaimed Simon vs. the Homo Sapiens Agenda-soon to be a major motion picture, Love, Simon-we follow Simon's BFF Leah as she grapples with changing friendships, first love, and senior year angst.
When it comes to drumming, Leah Burke is usually on beat-but real life isn't always so rhythmic.She's an anomaly in her friend group: the only child of a young, single mom, and her life is decidedly less privileged. She loves to draw but is too self-conscious to show it. And even though her mom knows she's bisexual, she hasn't mustered the courage to tell her friends-not even her openly gay BFF, Simon.
So Leah really doesn't know what to do when her rock-solid friend group starts to fracture in unexpected ways. With prom and college on the horizon, tensions are running high.It's hard for Leah to strike the right note while the people she loves are fighting-especially when she realizes she might love one of them more than she ever intended.
I think Leah on the Offbeat may have been the most anticipated release of 2018 so far. And maybe it's because my expectations were set too high, but I didn't love it. Don't get me wrong, it was still a very enjoyable book, but for me, there was something missing.
It had been a while since I read Simon vs the Homo Sapiens Agenda (and I haven't seen the movie yet), so I didn't really remember Leah all that well. Reading her own story has definitely intrigued me to re-read Simon (or finally watch the movie).
The cover is stunning. I bought it on my Kindle because I was traveling the next day, but I'm going to pick up a physical copy as soon as I get back.
Leah is witty and adorable and fierce. I really liked her character. I found her story incredibly relatable. Any book with bisexual representation is good in my book (ha – get it?!) and Albertalli has not let me down on that front. Without giving away too much, I am so happy Albertalli wrote about Leah's struggles of coming out as bi, even when her best friend is openly gay.
Now comes the bad:
Let's be honest, Leah was a pretty shitty person at times. I know that no one is perfect, but her thought process had me rolling my eyes more times than I would care for. You're not the only person going through things, Leah. No need to be such a shitty friend (and daughter – what the hell was that about?).
Albertalli tried painfully hard to make Leah appear 'woke'. Can we get over this yet? Seriously, not every book needs a white main character sticking up for the token black friend. Lazy writing.
Simon is reduced to the adorable, gay friend. Simon's presence in this book served literally no other purpose than be Leah's gay best friend. How many times can one person mention how adorable and cute her gay friend's relationship is??
Despite some parts being problematic, the story was enjoyable and empowering at times. Hmm, conflicting. Read for yourself – I'd be curious to hear your thoughts!