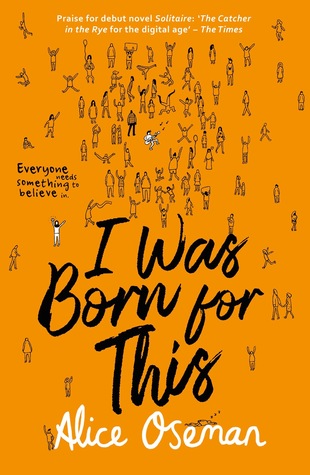 I WAS BORN FOR THIS by Alice Oseman
Published: May 3, 2018 by Harper Collins Children's Books
Pages: 400
Format: Kindle e-book
For Angel Rahimi, life is only about one thing: The Ark – a pop-rock trio of teenage boys who are currently taking the world by storm. Being part of The Ark's fandom has given her everything – her friendships, her dreams, her place in the world.
Jimmy Kaga-Ricci owes everything to The Ark too. He's their frontman – and playing in a band is all he's ever dreamed of doing. It's just a shame that recently everything in his life seems to have turned into a bit of a nightmare.
Because that's the problem with dreaming – eventually, inevitably, real life arrives with a wake-up call. And when Angel and Jimmy are unexpectedly thrust together, they will discover just how strange and surprising facing up to reality can be.
I read Alice Oseman's debut novel Solitaire when it first came out, and I remember enjoying it quite a bit. So when I was looking for something to read on my Kindle, this book caught my eye.
The only character I liked in this book was Angel and even her I found completely insufferable. It's great that there was so much representation in this book but just because you throw in a bunch of minorities doesn't automatically make the story good or the book worth reading.
In defence of this book, I didn't read the blurb and I probably should have. Pop band fandom is something that I put behind me a long time ago and don't necessarily ever want to return to. If I had known what the book was about, I wouldn't have picked it up.